Overview
VIVOTEK's VC9101 is a high-performance split-type camera system. Its discreet design, rich functionality and ability to be flexibly integrated into even the tightest spaces, make this camera ideal for indoor or covert surveillance of ATMs, banks, stores and offices.
The VC9101 features a separate camera unit (CU series) and video core design, enabling the tiny camera unit (with 5-meter long cable) to be easily and flexibly installed into any decoration or interior design, thus preserving stylish appearances while dramatically saving on installation time and cost.
VC9101 video core has a powerful processor which can stream a 5MP 360 degree fisheye image or a 4MP 16:9 image. Furthermore, the VC9101 is equipped with CNN (Convolutional Neural Network) hardware accelerator which allows the deep learning VCA be more efficient and powerful. VC9101 also provides deep learning based face detection suitable for most installation scenarios.
The VC9101 camera core can support one camera unit and is designed to work in perfect harmony with a choice of 4 different types of camera units, CU9171-H, CU9171-HF, CU9183-H and CU9183-HF. The whole system incorporates a number of advanced features found in VIVOTEK cameras, including WDR Pro, SNV, Smart Stream III technology, 3DNR, and security features like secure boot, signed firmware, and Trend Micro cybersecurity.
Key Features
Discreet, Recessed-Mount Camera Units
Supports 1 Camera Unit
4 Camera Options: 4MP WDR Pinhole, 4MP WDR Pinhole Flat, 5MP WDR Fisheye, 5MP WDR Fisheye Flat
Two-Way Audio on Video Core
WDR Pro (120 dB) for Improved Visibility in High Contrast Scenes
Face Check - Smart Motion Detection
Video Rotation for Corridor View
Trend Micro IoT Security
Benefits
Discreet Appearance
The smaller camera form factor enabled by the split core/camera design also allows a less obtrusive appearance where there are aesthetic concerns or to reduce the risk of opportunistic tampering or vandalism.
Flexible Selection for Different Scenarios
With a choice of four WDR camera units: the CU9171-H(F) pinhole type, and the CU9183-H(F) fisheye type for 180° Panoramic View, the VC9101 provides unprecedented flexibility. The split-type camera system can be used to monitor spaces such as ATM's, elevators, a single large space, or to provide different types of views, among other possible usage scenarios.
Greater Coverage with Simplified Installation
The camera unit that can be connected to the core unit can be positioned up to 5 meters away, enabling the tiny camera unit to be easily and flexibly installed into any decoration or interior design.
Easier Maintenance and Upgrades
The modular design of the VC9101 makes removing individual camera units for maintenance or replacement extremely easy. Moreover, upgrades can also be easily accomplished, since they need only involve swapping out of a camera unit and not replacement of the entire system.
NDAA Compliance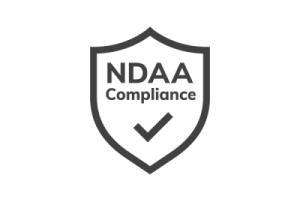 System Information

Model

VC9101

CPU

Multimedia SoC (System-on-Chip)

Flash

8 GB

RAM

1 GB

On-board Storage

Seamless Recording to MicroSD/SDHC/SDXC card (1TB capacity supported) and recording to network-attached storage (NAS)
Video

Video Compression

H.265, H.264, MJPEG

Video Source

1 VIVOTEK camera unit

Maximum Streams

3 video streams (Up to 8 configurable profiles)

Video Streaming

Adjustable resolution, quality and constant bit rate control, Smart Stream III

Image Settings

General settings: video title and time stamp overlay, video orientation (flip, mirror, rotation (CU9171-H(F) only))
Image settings: white balance, image adjustment (brightness, contrast, saturation, sharpness, gamma curve (CU9171-H(F) only)), defog, 3DNR, HLM, scene mode (auto, deblur)
Exposure: BLC, HLC, exposure control (exposure level, exposure time, gain control) AE speed adjustment, WDR
Privacy mask, Pixel calculator
Audio

Audio Capability

Two-Way Audio (full duplex)

Compression

G.711
G.726

Interface

External microphone input
External line output
Network

Users

Live viewing for up to 10 clients

Security

Access list, digest authentication, HTTPS , IEEE 802.1x, Password protection, secure boot, signed firmware
Trend Micro IoT Security (brute force attack event, cyberattack event, quarantine event)
User access log, user account management, CSRF protection

Protocols

802.1X, ARP, Bonjour, CIFS/SMB, CoS, DDNS, DHCP, DNS, FTP/SFTP, HTTP, HTTPS, ICMP, IGMPv3, IPv4, IPv6, NTCIP, NTP
PPPoE, QoS, RTSP/RTP/RTCP, SMTP, SNMP, SSL, TCP/IP, TLS, UDP, UPnP

Interface

10Base-T/100BaseTX Ethernet (RJ-45)
*It is highly recommended to use standard Cat5e & Cat6 cables which are compliant with the 3P/ETL standard.

ONVIF

Profile G, S, T supported, specification available at www.onvif.org
Solution Integration

Smart Motion Detection

Five-window video motion detection, face detection, time filter
Alarm and Event

Alarm Triggers

Audio detection, camera tampering detection, digital input, manual trigger
Motion detection, periodical trigger, recording notification, SD card life expectancy, system boot
Cybersecurity events (brute force attack event, cyberattack event, quarantine event)

Alarm Events

Event notification via audio clip, camera link, digital output, email, HTTP, FTP/SFTP, NAS server, SD card, push notification
File upload via email, HTTP, FTP/SFTP, NAS server, SD card
General

Connectors

RJ-45 cable connector for 10/100Mbps Network/PoE connection
Audio line input
Audio line output
DC 12V power input
Digital input *1
Digital output *1 (12V, 50mA)

LED Indicator

System power and status indicator

Power input

DC 12V
IEEE 802.3af PoE Class 0
Simultaneous Power Redundancy Supported

Power consumption

Max. 8.5 W

Dimensions

105 (W) x 84 (D) x 30 (H) mm

Weight

190 g

Safety Certifications

EMC: CE (EN55032, EN55024 Class B), FCC (FCC Part 15 Subpart B Class B), RCM (AS/NZS CISPR32 Class B), VCCI (VCCI-CISPR 32 Class B)
Safety: UL (UL62368-1), CB (IEC/EN 62368-1, IEC/EN 60950-22, IEC/EN 62471)
Environment: IA:BSMI (EMC: CNS 13438, Safety: CNS 14336-1)

Operating Temperature

Starting Temperature: 0°C ~ 50°C (32°F ~ 122°F)
Working Temperature: -10°C ~ 50°C (14°F ~ 122°F)

Humidity

90% RH (non-condensing)

Warranty

36 Months
System Requirements

Operating System

Microsoft Windows 10/8/7
Mac 10.12 (Chrome only)

Web Browser

Chrome 58.0 or above
Internet Explorer 10/11

Other Players

VLC: 1.1.11 or above
Included Accessories

Packing Contents

Quick installation guide, installation kit
DORI (EN 62676-4 Standard)

Detect (25PPM/ 8PPF)

CU9171-H(F): 77 m (252.6 ft)
CU9183-H(F): 24.3 m (79.7 ft)

Observe (63PPM/ 19PPF)

CU9171-H(F): 30.5 m (100.1 ft)
CU9183-H(F): 9.6 m (31.5 ft)

Recognize (125PPM/ 38PPF)

CU9171-H(F): 15.4 m (50.5 ft)
CU9183-H(F): 4.8 m (15.7 ft)

Identify (250PPM/ 76PPF)

CU9171-H(F): 7.7 m (25.3 ft)
CU9183-H(F): 2.4 m (7.9 ft)
Model

CU9171-H(F): Pinhole

Image Sensor

1/2.7" Progressive CMOS

Maximum Resolution

30 fps @ 2688x1520

Focal Length

f = 3.7 mm

Aperture

F2.5

Field of View

93° (Horizontal)
48° (Vertical)
117° (Diagonal)

Shutter Time

1/5 sec. to 1/32,000 sec.

WDR Technology

WDR Pro

Minimum Illumination

0.045 lux @ F2.5 (Color)

Pan/Tilt/Zoom Functionalities

ePTZ: 48x digital zoom (4x on IE plug-in, 12x built-in)

S/N Ratio

55.9 dB

Dynamic Range

120 dB

Dimensions

CU9171-H: Ø 24 x 30 mm (Without cable)
CU9171-HF: 33 x 32 x 20 mm (Without cable)

Weight

CU9171-H: 19g
CU9171-HF: 43g

Operating Temperature

Starting Temperature: 0°C ~ 50°C (32°F ~ 122°F)
Working Temperature: -10°C ~ 50°C (14°F ~ 122°F)

Humidity

90% RH (non-condensing)
Model

CU9183-H(F): Fisheye Camera

Image Sensor

1/2.7" Progressive CMOS in 2560x1920

Maximum Resolution

30 fps @ 1920x1920

Focal Length

f = 1.22 mm

Aperture

F2.0

Field of View

180° (Horizontal)
180° (Vertical)
180° (Diagonal)

Shutter Time

1/5 sec. to 1/32,000 sec.

WDR Technology

WDR Pro

Minimum Illumination

0.035 lux @ F2.0 (Color)

Pan/Tilt/Zoom Functionalities

ePTZ: 48x digital zoom (4x on IE plug-in, 12x built in)

S/N Ratio

56.3 dB

Dynamic Range

120 dB

Dimensions

CU9183-H: Ø 24 x 37 mm (Without cable)
CU9183-HF: 33 x 32 x 28 mm (Without cable)

Weight

CU9183-H: 28g
CU9183-HF: 52g

Operating Temperaturee

Starting Temperature: 0°C ~ 50°C (32°F ~ 122°F)
Working Temperature: -10°C ~ 50°C (14°F ~ 122°F)

Humidity

90% RH (non-condensing)
Dimension
---
Related Products