Key Features
H.265/H.264 Compression Technology
64-CH Recording, 64-CH Display
8 Hot-Swappable HDD Bays
Support RAID 0/1/5/6/10 Storage
Redundant Power
Dual Lan Giga Network Ports
Multiple Fisheye Dewarp Support
VIVOTEK VAST 2 Inside
Smart Search II: People/Vehicle Search
Analytics Integration: Smart VCA, Parking Violation/Restricted Zone Detection
Cybersecurity Management Solution
Comprehensive VIVOTEK Solution Support
System Structure

---
Smart Search II – People/Vehicle Search

Users can quickly sort through large amounts of footage to find people and/or vehicle related motion in video recordings via VAST 2. People and vehicles appearing in the user-defined area can serve as search criteria. This provides for quicker search times and the video clips can then be exported.
Analytics Integration - Parking Violation/Restricted Zone Detection

Integrate our latest video content analytics technology from VIVOTEK cameras: Parking Violation Detection and Restricted Zone Detection. VAST 2 is able to support the display of these new detection rules in liveview with bounding boxes on detected people/vehicles. Both new rules can be used for instant alarm notifications in real time and event-search functions, offering refined analytics for people and vehicle detection.
Comprehensive VIVOTEK Solution Support

Users can now manage their properties with our latest solutions, License Plate Solution and Network Audio Solution, via VAST 2.It supports linking license plate information with live streaming and recordings from VIVOTEK LPR cameras (e.g., IB9387-LPR). Or set specific video analytic detection events from integrated cameras and synchronize VIVOTEK audio devices (e.g., AU-001). Easily centraliz these devices, whether you want to search/analyze license plate historical data, display the number of data in line graphs, export search results, or display live streaming video. By meeting all your requirements, VAST 2 provides an intelligent surveillance solution that helps reduce management costs.
Rich Integration of 3rd Party Access Control Solutions

VAST 2 now integrates access control solutions with 3rd party partners, Chiyu, SOYAL, and ZKTeco. Users can choose from any of our partners as needed. These access control solutions provide simple and effective operations via the Data Magnet function for complete protection in highly secure and sensitive scenarios. Events can then be displayed and annotated along with related video clips to manage detailed visitor data easily.
Cybersecurity Management Solution

Integrate cybersecurity attack events from VIVOTEK cameras and NVR to VAST 2 alarm management. In addition to alarm action and notification, VAST 2 becomes the central management site to recognize attack trends and status, as well as acquire attack information.
Embedded Browser on VAST 2 Display

The web browser can be embedded on a VAST 2 viewing cell to show website information or change the settings of other devices directly via VAST 2 instead of opening the application in another window. You can customize the layout of the display on the screen as required.
Data Magnet

Data Magnet enables VIVOTEK's License Plate Recognition cameras or third-party data sources to integrate into VAST 2, providing rapid access to recording data and supporting simultaneous data display during live streaming. Additionally, users can also utilize Data Magnet's alarm management to customize alarm triggering rules and actions, enabling users to receive alarm notifications immediately upon preset alarm criteria triggering.
Scalable License of VAST 2

VAST 2 equips scalable functions such as Data Magnet, TCP Message, and Extension functions, while also providing the licenses for purchase. Now users can import these advanced features licenses on the NR-v2/NS series NVR models (Image version is v2.1.0.1 or later), offering more flexibility to deploy/manage your devices as needed.
---
NDAA Compliance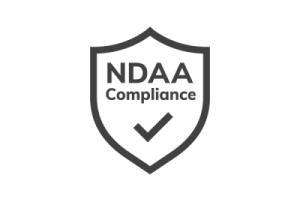 Device

Model

NR9681-v2

OS

Embedded Windows 10

Watchdog

Hardware + Software

Power Restoration

System Restart Automatically after Power Recovery
Local Display

LiveView Display

64 Channels
Equal: 1x1, 2x2, 3x3, 4x4, 5x5, 6x6, 7x7, 8x8
Panorama: 1P+6, 2P, 2P+3, 3P
Focus: 1+12, 1+16, 1+3, 1+5, 1+7, 1+9, 2+8
Vertical: 1V+6, 2V+2, 2V+3, 3V, 3V+4, 4V, 4V+4, 5V
Single layout display, full screen display, custom layout, layout rotation

Video Output

HDMI x1, Display Port x1

Display Resolution

HDMI: 4096x2160
DP: 4096x2304

Dual Monitor

Supported

Camera Position

Change the viewcell position on the Live View screens

Stream Application

Stream Selection & Auto Stream Size

Monitor Enhancement

E-Map Embedded, Drag & Drop, Remote I/O Control, PiP (Digital Zoom), Instant Playback
Video Display Mode (Aspect Ratio & Camera Information), Metadata Display (VCA, POS and Data Magnet)

Fisheye Dewarp

1O, 1P, 1R, 1O3R, 4R, 2P, 4R Pro, 1O8R and Fisheye Auto-Pan

PTZ/ePTZ Operation

Direction Control, Home, Zoom, Focus, Isis, Preset, Patrol (Group), Tracking, Pan, Stop, Speed, Wiper Blade Control
Video

Video Format

MJPEG, MPEG4, H.264 AVC, H.264 SVC, H.265

Graphic Decoder

Software decoding

Decoding Resolution

Up to 8192x8192

Decoding Capability

H.264: 1920x1080 @ 540 fps
H.265: 1920x1080 @ 270 fps
Audio

Audio Format

G.711, G.726, AMR, AAC

Audio In/Out

Microphone audio jack Input x1
3.5 Line input audio jack x1
3.5 Line output audio jack x1

2-way Audio

Supported
Record

Recording Time (sec.)

Pre-Record: 3-15
Post-Record: 10-60

Recording Stream

Single

Recording Throughput

512 Mbps

Recording Mode

Continuous, Event, Customized Schedule, Activity Adaptive Streaming

Recording Setting

Recycling time depends on the remaining storage space or the set number of days

Watermark

Supported

Seamless Recording

Supported
Storage & Backup

HDD Devices

Hot-Swappable Tray x8
*HDD is purchased by separately.

HDD Max. Capacity

*Please refer to recommended HDD list on the VIVOTEK website.

RAID

RAID 0, 1, 5, 6, 10

Disk Management

Create, Format and Remove Disk

Video Clip Export

USB Dongle (FAT Format)
NAS (SMB & CIFS)

Schedule Backup

NAS (SMB & CIFS)
Playback

Playback Display

64 Channels
(the max. number of monitors supported depends on the decoding capability of your system)
Equal: 1x1, 2x2, 3x3, 4x4, 5x5, 6x6, 7x7, 8x8
Panorama: 1P+6, 2P, 2P+3, 3P
Focus: 1+12, 1+16, 1+3, 1+5, 1+7, 1+9, 2+8
Vertical: 1V+6, 2V+2, 2V+3, 3V, 3V+4, 4V, 4V+4, 5V
Single layout display, full screen display, custom layout, layout rotation

Playback Control

Play, rewind, pause, stop, next/previous video start, next/previous frame, 1/8X ~ 64X speed control, bookmark

Video Search

Calendar, Event, Alarm, Bookmark, Thumbnail, Smart Search II, Transaction (POS), Data Magnet, Log

Snapshot

BMP & JPEG

Video Clip Export

3GP & EXE
Network

Ethernet

10/100/1000Mbps Ethernet (RJ-45) x2

Video Throughput for Remote Client

400 Mbps

Protocols

IPv4, TCP/IP, HTTP, HTTPS, UPnP, RTSP/RTP/RTCP, SMTP, FTP, DHCP, NTP, DNS, DDNS, IP Filter
Alarm Management

Alarm Period (sec.)

Max. 30

Alarm Filter

Time, Trigger Type (Camera/Substation/System), Status, Name, Trigger Source

Alarm Setting

Realtime System Notification
Alarm Result Display by List or Thumbnail

Schedule Type

Continuous, schedule, manual

Camera Event

General:

Motion detection, Camera DI, Camera DO, IR (Infrared), PIR (Passive infrared), Tampering detection, Temperature
Camera disconnected, Recording error, Stop recording, Video loss (Video server only), SD card life expectancy detection, Audio detection, Shock detection

Smart VCA:

Line crossing detection, Intrusion detection, Loitering detection, Face detection
Missing object detection, Unattended object detection, Crowd detection, Runninge Detection

Trend Micro IoT Security:

Brute force attack, Cyberattack, Quarantine event

Substation

NV Series NVR:

Abnormal G-sensor Motion, Speeding, GPS Disconnected

ND Series NVR:

Fan Status, Network Disconnected, Storage Failure, Storage Full, Number of remaining people, Brute force attack, Cyberattack, Quarantine event

NR Series NVR:

Network Disconnected, Storage Failure, Storage Full

External Devices Event

DI/O (with I/O Box), TCP Message

Action

Start to record videos, Set DO status, Go to camera presets, Send HTTP requests, Send live streaming
Send email with snapshot of assigned camera(s), Go to E-Map, Sound the alarm and Add bookmark

Alarm State for Management

New, In Progress, False Alarm and Close

Alarm Result Export

.csv File
eMap

Source

Import picture & folder

Device

Camera, external DI/O

Marked

Add, remove, direction control, PTZ control, FOV control, live view & playback

Event Notification

One or More Live Streaming
External Interface

USB

USB 3.0 Type-A x3
USB 3.0 Type-C X1

Audio

Microphone audio jack Input x1
3.5 Line input audio jack x1
3.5 Line output audio jack x1
System

POS Integration

Supported

UPS Integration

Supported

Camera Integration

ONVIF Profile S

I/O Box Integration

Advantech ADAM-6000 Series
CHIYU CYT-133SC
MOXA ioLogik E1210, E1211 and E1212

User Management

Authentication: Basic Account / Windows AD Account
User Account: 1024
User Level: Administrator / Customized User

Log

Operation, system and event log

Date & Time

Sync server
Advanced Features

VCA Counting Solution

Supported

LPR Solution

Supported

VCA Event Search

Smart VCA

Smart Search

Smart Search I & Smart Search II

Cybersecurity Management

Supported

Failover

Supported
Remote Client

Software AP

Shepherd, VAST 2

Mobile/Tablet App

iViewer (Android & iOS)

Web Browser

Internet Explorer 9 (32 bit) or above
General

Power Input

Redundant power 100~220V AC

Power Consumption

Max. 650 W

Redundant Power

Supported

80 Plus Certified

Platinum

Dimensions

89 (H) x 437 (W) x 647 (D) mm

Weight

15.8 kg (Without HDD)

Operating Temperature

5°C ~ 35°C (41°F ~ 95°F)

Humidity

0 ~ 95%

Safety Certifications

CE, FCC, VCCI, C-Tick, UL, CB

Warranty

36 months
Dimension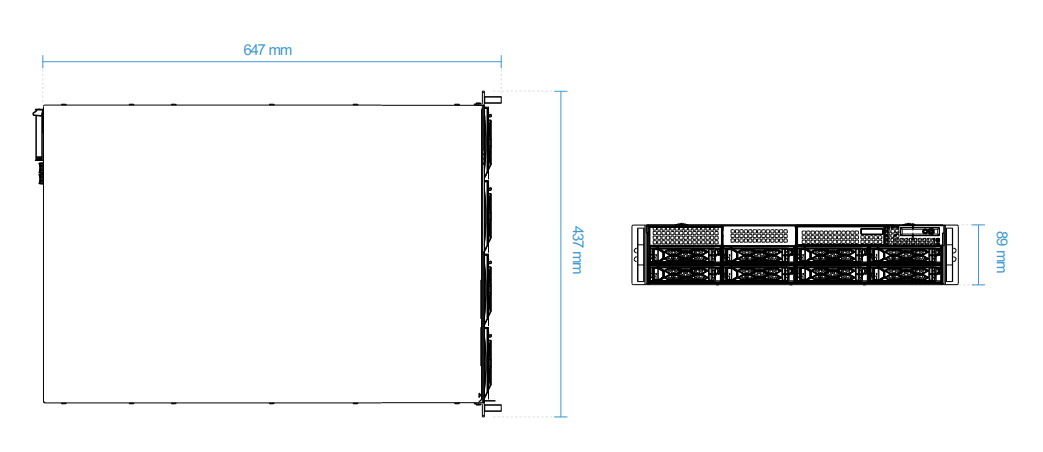 ---
Related Products