IDS-T4000

Linux-embedded iSCSI Storage Expansion Server for DIGIEVER NVR

IDS-T4000 is a 4-bay standalone iSCSI server designed to expand the storage capacity to many DIGIEVER NVRs. Its Mult-RAID design allows you to flexibly define different RAID levels based on the importance of video.
4 BAY
____________________

Hard Disk Drive
N+M iSCSI Storage Expansion Architecture

Multi-RAID Storage Management

Remarkable Storage Capability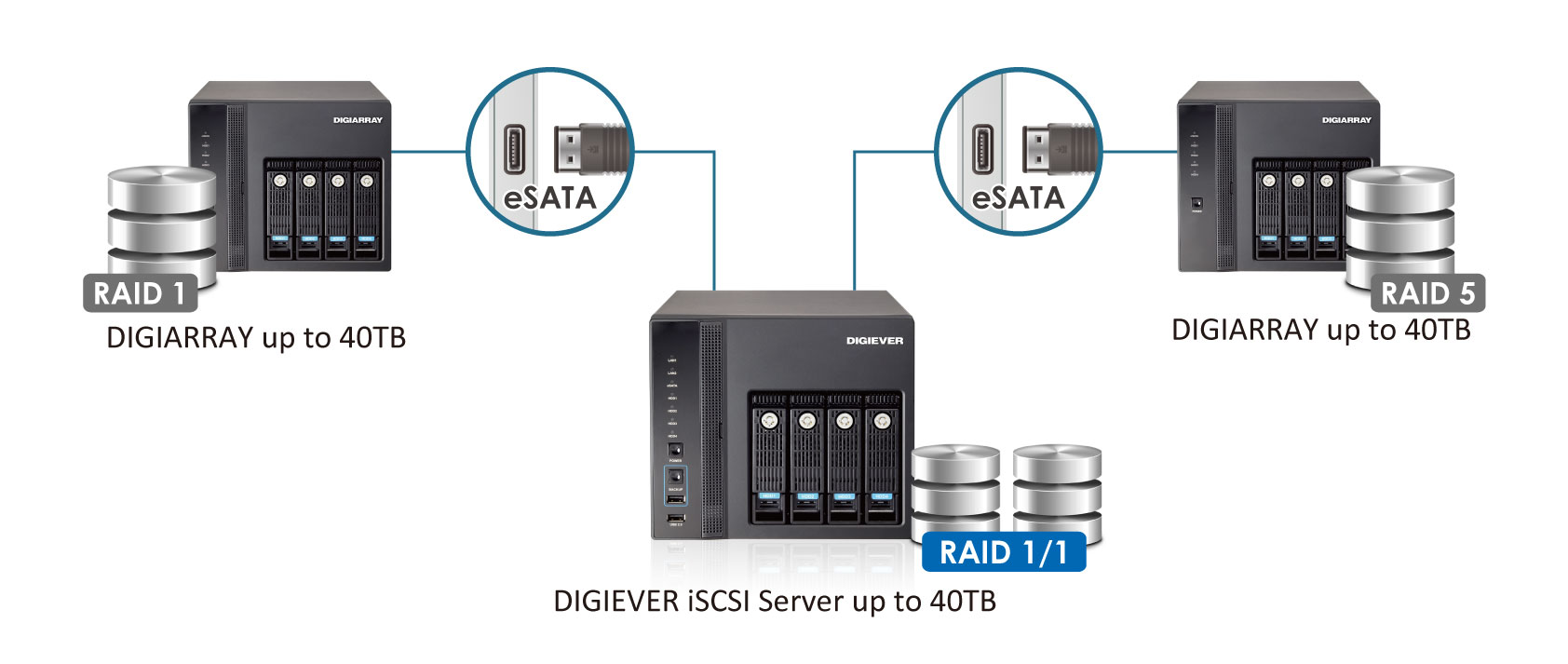 Superior Hardware Design

Network Capability and Self-Monitoring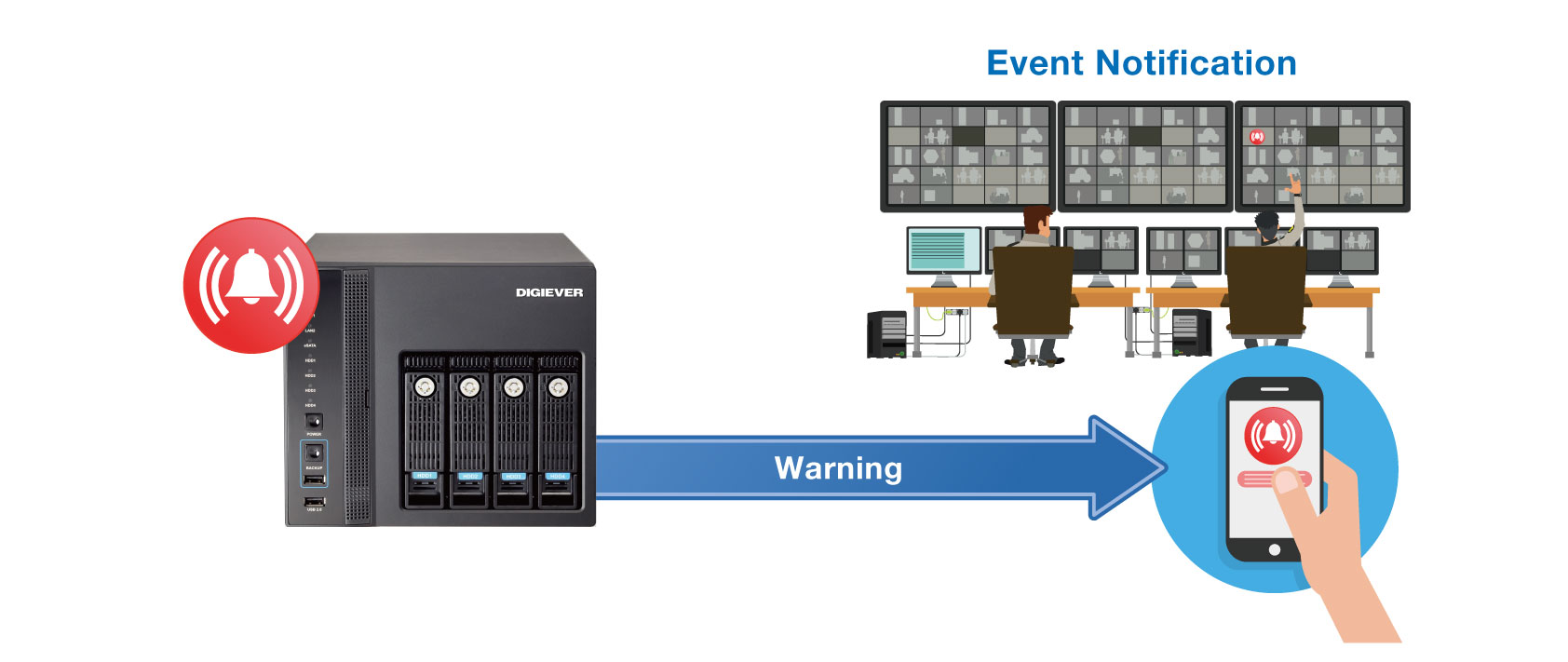 CPU

Intel High Performance CPU

Memory

1 GB Flash (DOM)
2 GB DDRIII memory

Storage Capacity per HDD

Up to 10TB

Storage Expansion Units (DIGIARRAY)

2 Units

HDD Tray

12 (NVR:4 + DIGIARRAY Storage Expansion Units: 8)

Maximum Capacity

Up to 120TB (NVR:40TB + DIGIARRAY Storage Expansion Units: 80TB)

LAN Port

2 x Gigabit RJ-45 Ethernet port

LED Indicators

HDD1, HDD2, HDD3, HDD4, eSATA, LAN1, LAN2

USB Connector

USB 2.0 x 6 (Front x 2, Back x 4)

eSATA

2 x eSATA port

Buttons

Power, USB backup(reserve)

Video Output Connector

HDMI x1, VGA x1 (For local configuration)

Alarm Buzzer

System warning

Form Factor

Tower

Operation Environment

Temperature 0~45˚C
Humidity 0~95% R.H.

Power Supply

Input: 100-240V AC, 50/ 60Hz
Output: 250W

Power Consumption

Operation: 54~65 W
(with 4 x 500GB HDD installed in RAID 5 building process)

Fan

2 x quiet cooling fan (7cm, 12V DC)

H/ W Dimensions

184.94(H) x 205.3(W) x 245.8(D) mm
7.28(H) x 8.08(W) x 9.68(D) inch

Color Box Dimensions

317(H) x 250(W) x 303(D) mm
12.48(H) x 9.84(W) x 11.93(D) inch

Carton Dimensions

345(H) x 325(W) x 520(D) mm
13.58(H) x 12.80(W) x 20.47(D) inch

Color Box Shipping Weight

Net Weight (kg/PC): 4.43
Gross Weight (kg/PC): 6.1
Gross Weight (kg/CTN): 12.2
Storage Ability

iSCSI Storage Device

Up to 5 devices for DIGIEVER NVR

Multi-RAID Numbers

Up to 2

Maximum RAID Numbers

Up to 4 with DIGIARRAY

Disk Management

Linear(JBOD), RAID0/ 1/ 5/ 6/ 10

S.M.A.R.T HDD Health Monitoring

Yes
Event & Action Management

Event

Server Events: Internet connection lost, UPS low power warning, abnormal shutdown, built-in digital input
Storage Events: RAID Degraded / Failed / Rebuilding
Hardware Events: CPU temperature, CPU fan, system fan, HDD error, HDD failed, eSATA connection lost, battery low warning

Action

E-Mail notification, SMS, buzzer alarm, SNMP trap, stack light, User Defined Action(HTTP out), built-in digital output
Network Service

Two LAN Port Applications

Share IP, Separated IP

Protocol

HTTP, HTTPS, TCP/IP, DHCP, DNS, DDNS
*Note: Please contact sales to know more integrated information.
---
Related Products