N+M iSCSI Storage Expansion Architecture
Cost-effective Storage Expansion Platform
Achieve the Highest Storage Utilization

DIGIEVER iSCSI Server is an ideal video storage expansion solution for DIGIEVER NVR, especially for large-scale surveillance projects and long-term storage needs. One iSCSI Server can be assigned for diverse DIGIEVER NVRs for video storage. One IDS-T16000-RM allows up to 6 iSCSI storage devices for DIGIEVER NVR to enlarge its storage space.
IDS-T4000 allows up to 5 iSCSI storage devices
IDS-T8000-RM allows up to 5 iSCSI storage devices
IDS-T16000-RM allows up to 6 iSCSI storage devices
for DIGIEVER NVR to enlarge its storage space.
Multi-RAID Storage Management
Multi-RAID Design
Fully Utilize HDD Storage
Optimized Fault Tolerance Ability
Fast and Reliable Storage Expansion for DIGIEVER NVR
iSCSI Server allows you to flexibly define different RAID levels based on the importance of video. By means of the flexibility of RAID combination, Multi-RAID design can optimize fault tolerance ability to increase the tolerable numbers of HDD failure. Via iSCSI Server, you can fastly create extra new RAID volume in few minutes without stopping current recording task.
Remarkable Storage Capability
120TB / 160TB / 240TB High Storage Capacity with DIGIARRAY
Extra Storage Expansion Ability
Diverse RAID Levels
S.M.A.R.T HDD Health Monitoring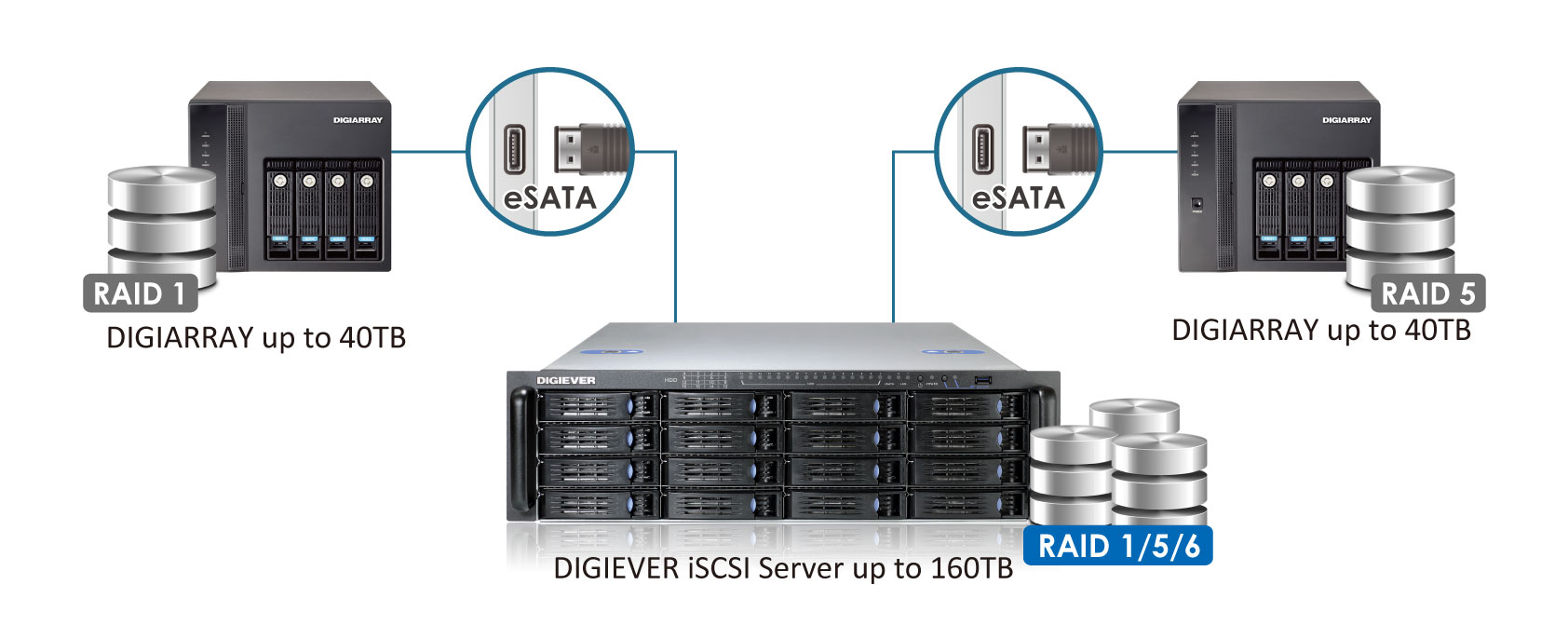 Supports up to 40TB / 80TB / 160TB high storage capacity for long-term video storage. It can connect up to 2 DIGIARRAY, storage expansion unit, to expand extra 80TB storage capacity with total 120TB / 160TB / 240TB storage capacity. iSCSI Server features diverse RAID levels, including RAID 0/1/5/6/10, to increase server reliability so as to protect crucial video data. iSCSI Server also offers S.M.A.R.T HDD health monitoring to prevent video loss from HDD failure in advance.
Superior Hardware Design
Hot Swappable HDD Design
Highly Integrated with UPS Device
Optional Redundant Power Supply (for IDS-T8000-RM & IDS-T16000-RM)
Its hot swappable HDD design allows you to replace the failed HDD without turning off the server. For unexpected electrical power lost, you can choose suitable UPS device to save important videos firmly and securely for unexpected electrical power lost. iSCSI Server is also equipped with redundant power supply as an option to ensure the operation of DIGIEVER IP surveillance eco-system works sound and safe. If one fails, the other power supply starts running to keep iSCSI Server powered up.
Network Capability and Self-Monitoring
Diverse Network Applications
Smart Self-Monitoring and Instant Notification
iSCSI Server is equipped with two LAN ports for diverse network applications to maximize network efficiency and to increase bandwidth stability. iSCSI Server features smart self-monitoring to instantly notify you that it is unable to record videos, such as internet connection lost or RAID failed.